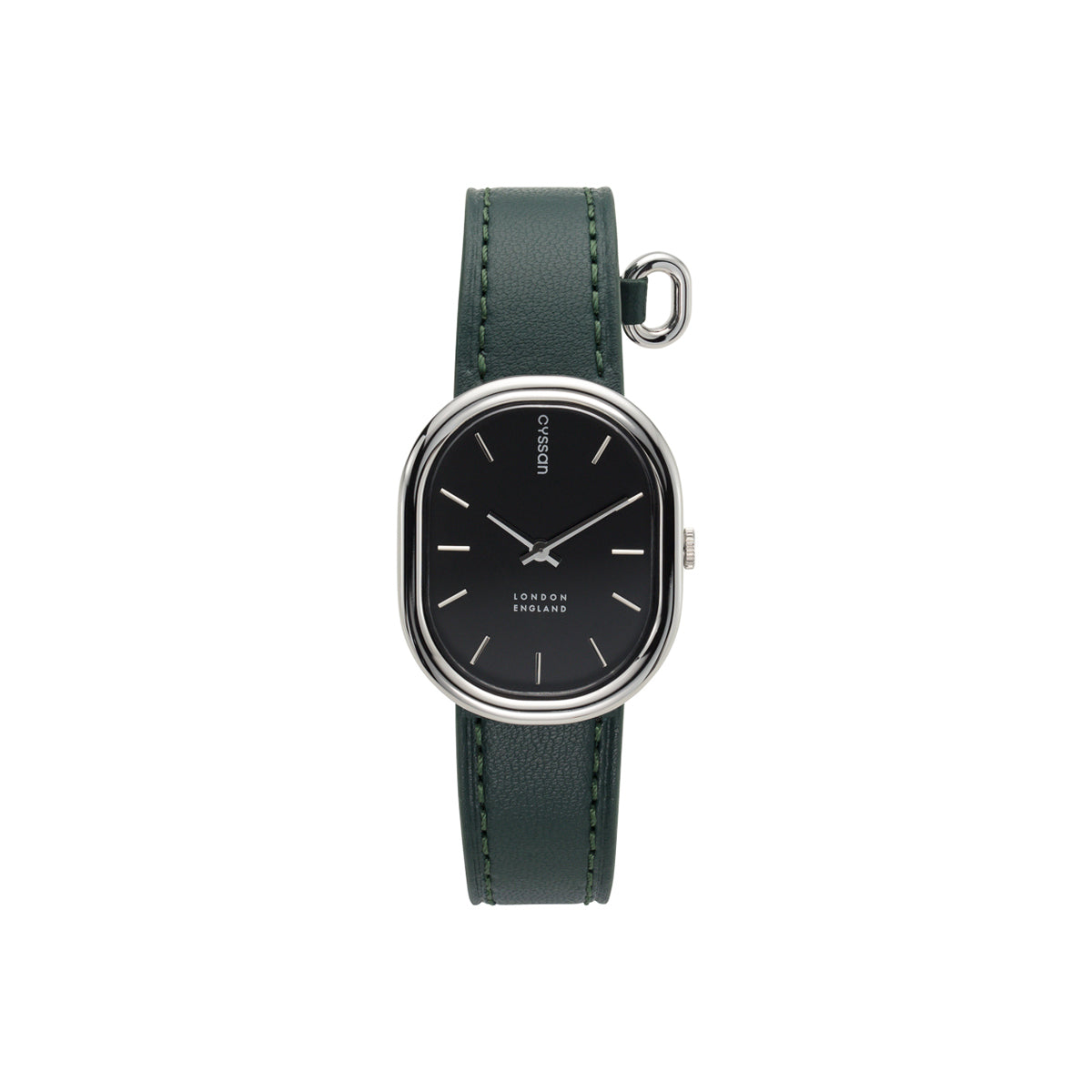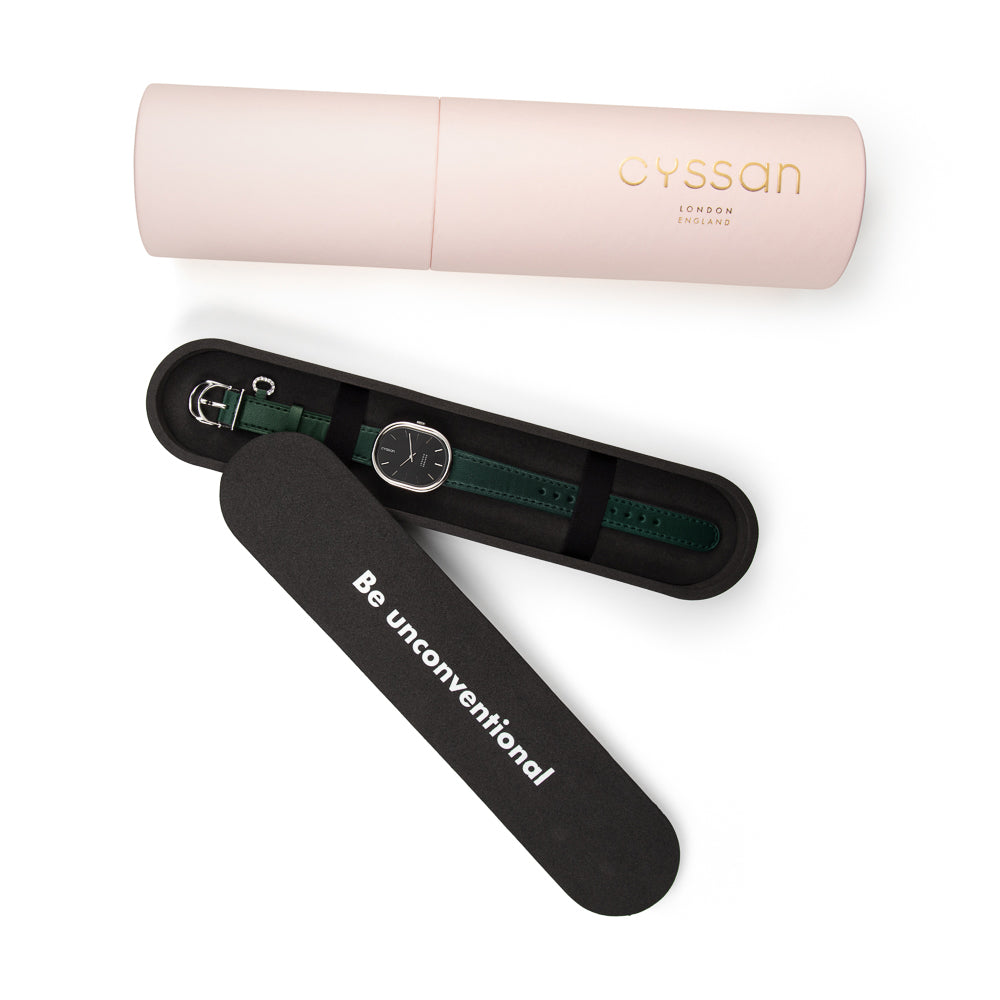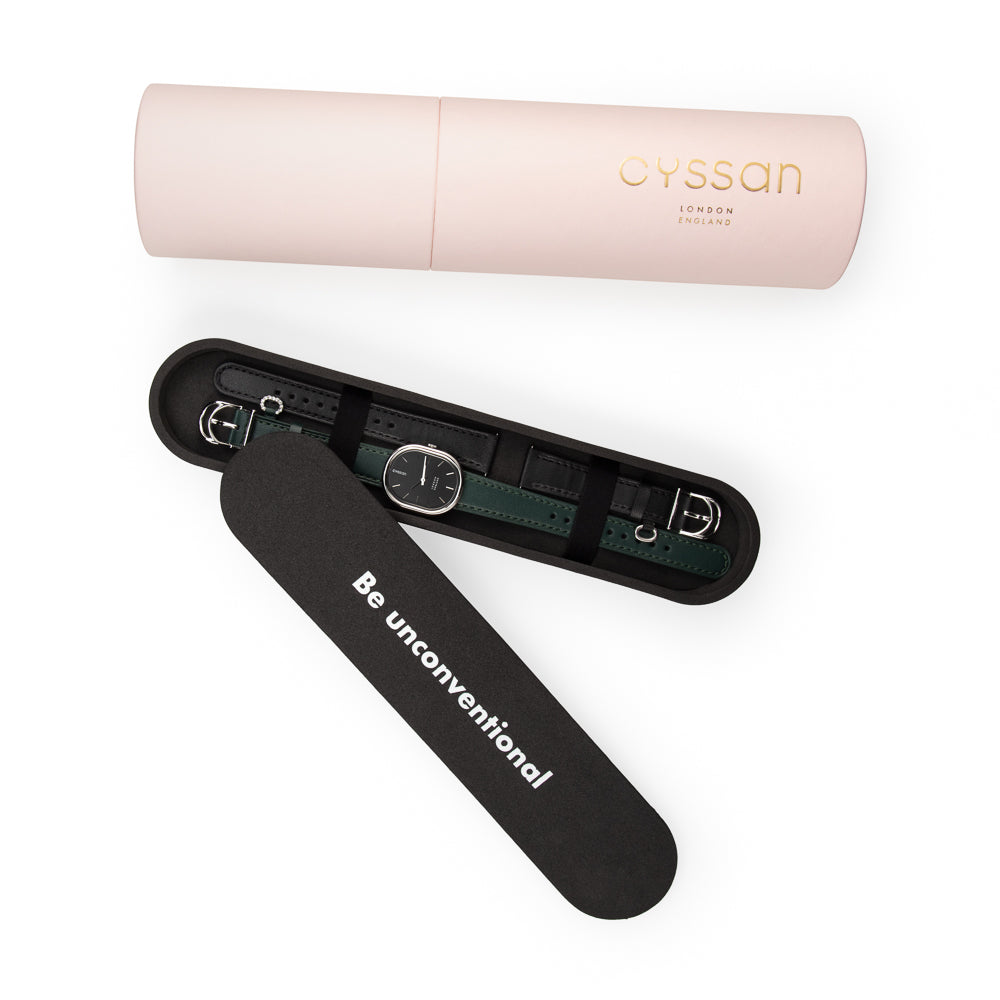 CYS4 Women's Fashion Watch with Black Dial and Green Strap
$140.00
Regular price
$214.00
Subscription • Save
Description
Specifications
Care for your Cyssan
Be prepared for compliments - you will get noticed when you're wearing this unconventionally-classic women's watch. The elegant, polished and brushed stainless steel oval-shaped case, striking black dial, sleek silver-tone indexes and hands are simply stunning.

More beauty lies in the minute details; there's a tiny engraved heart on the crown, a delicate screw detail on the side of the case, and a special engraved message on the case back.

This interchangeable Cyssan-Green watch strap is made from vegan leather. To make it stand out, we've added a unique shiny stainless-steel curved buckle, and a mini bejewelled ring - for that extra dose of glamour!
Let us tell you more about the watch specifications

Case diameter: 33x27mm

Case thickness: 7.50mm

Buckle fastening

Movement: Japanese Quartz Miyota movement

Glass: Mineral glass

*CYS2, CYS5, CYS10 and CYS11 are gold-plated (IPG)
Water resistant: 3ATM - Splash and rainproof only
Strap: vegan leather with stainless steel ring.
Strap width: 16mm - suitable for anyone with wrists between 15-21cm.
**Stones: CYS4, CYS5, CY6, CYS8, CYS9 and CYS11 contain cubic zirconia

Shipping details below.
Treasure your Cyssan watch and it'll last you well!
To prevent any damage or unwanted marking, we'd recommend keeping your strap away from intense sunlight, heat, humidity, water and perfume.
Remember this Cyssan watch is splash and rainproof only.
We know you're an unconventional woman, and have your own mind, but we really don't recommend you jump into the shower, bath, hammam, sauna, pool or the sea, with your Cyssan watch on, or do any water-based activities whilst wearing it.
Use a soft cloth to clean and gently polish your watch.
See section below for details about Cyssan warranty.

Customer Reviews
15/01/2022
Nicole

Germany
I recommend this product
Finally found my perfect watch!
I've been looking for a watch like this for a very long time. For me it's a classy, timeless and beautiful piece of art which combines quality and design in a perfect way! The delivery went fast and it came in an elegant case, it was pure joy to unpack this little treasure. Thanks Joanna!
13/01/2022
Cindy S.

Switzerland
I recommend this product
CYS4 and CYS5
Since I decided that self-gifting is a thing, I have two Cyssan watches.I bought one for my birthday and liked it so much I bought one for Christmas. On the practical side I find them really light and comfortable to wear. They're great for work because they don't bang on the desk when I type. On the aesthetic side, I love how stylish they are and how the shape and added details make them unique. Having different colours means I have lots of fun matching my watch to my outfits and to my mood. I suspect the CYS6 might join my collection sometime. If you like something that combines practicality, beauty and uniqueness, I highly recommend a Cyssan watch.
01/11/2021
Hye-Seon K.

United States
I recommend this product
CYS4 & CYS5
I bought two watches recently and I love my watches!! It's so beautiful and versatile! It comes with free colored straps so you can change it with your outfit changes or moods. I also liked the small stainless-steel bejeweled curved buckle ring. It is so unique and it makes me feel like I am wearing watches/bracelets at the same time!! Awesome! Perfect!
CYS4 Women's Fashion Watch with Black Dial and Green Strap

$140.00

Regular price

$214.00
Shipping & Warranty
Shipping
We will contribute to the shipping costs for all customers around the
world. We also cover the cost to offset the environmental impact of
your shipment where possible!
For the UK and Republic of Ireland, your shipping cost is £3.99 (we pay the rest).
To EU you pay £16.50 for shipping (we pay the rest). Please note that you may have to pay VAT and/or duty taxes and clearance upon delivery. Unfortunately, Cyssan cannot cover these costs.
For the rest of the world, your shipping cost is £22 (we pay the rest). Please note that you may have to pay VAT and/or duty taxes and clearance upon delivery. Unfortunately, Cyssan cannot cover these costs.

Standard shipping delivery in the UK within 2-5 working days.
To the EU approx. 6-10 working days.
Worldwide approx. 6-12 working days.

We aim to send out all orders within 48 hours, excluding weekends.
Each order is tracked and you'll be provided with a tracking number so you know when to expect your delivery.
Warranty
We take great care in producing our Cyssan watches, but rest assured we also offer a 2-year warranty to cover any manufacturing defects. This includes defects of the watch movement, indexes, dials and hands.

Your Cyssan Warranty is valid for 2 years from the date of purchase under the terms and conditions of this warranty. During this time, Cyssan will, at its sole discretion, repair any defective watch and/or replace any defective parts free of charge within a reasonable time after the product is returned.

The Cyssan Warranty does not cover the following:

- normal wear and tear of the watch

- any damage caused by accidents, improper use or handling, ageing, or anything other than a defect in parts of workmanship

- any damage resulting from improper exposure to water

- any damage and/or scratches to the finish of the case, the glass, buckle, or other components caused by wear or accident

- any damage caused by intervention, repairs or alterations of the watch

- watches that have been tampered with (e.g. serial number erased/altered)

- the tarnishing of watch case, bracelet, buckle or jewellery elements - the life of the battery, crown or glass, strap.

You may need to cover the cost of shipping and packaging to get your watch back to us.

To register your Cyssan watch for the 2-year warranty, email hello@cyssan.com indicating the unique individual number on the case back, which identifies the watch and certifies its authenticity.

Once your Cyssan Warranty has expired, any repairs will be subject to a service charge.